Li River Cruise Tickets
Li River is a top must-see site in Guilin, the best way to appreciate Li River scenery is to take the luxury cruise boat from Guilin all the way down to Yangshuo. The four hours cruise sailing through the essence part of river, this 50km water way is an epitome of unique karst formation landscape. Tourist can laid-back on the boat and see features of Li River – towering mountains, paddy fields, local fisherman and cormorant and water buffalo pass by.
China Travel offering Li Rive Cruise Ticket Booking for ensure self-guide travelers can find an easy way of reservation, and book the tickets in advance for insure the availability especially in peak tour seasons.
We attention in every small detail to help in making comparation of different type of boats, ticket collection and ways to get to the dock. For any questions you may concern or want more information, contact us for further assistance.
Li River Cruise Boat Types and Booking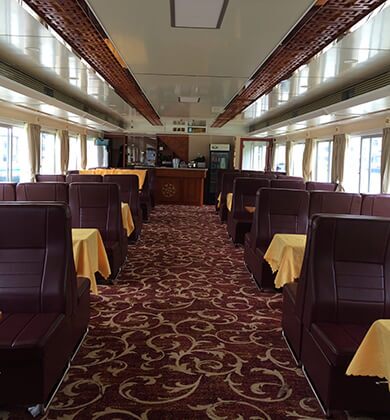 Departs: Daily
Capacity: 120 Passengers
Meals: Lunch Box
Duration: 09:30am - 01:30pm
Departs: Mopanshan Pier, Guilin
Price Per Person:
Adult $58
Child 120-149cms tall (3.9-4.9ft)$47
Child under 120cms (3.9ft) Free
Features:
Departs everyday
Affordable price for budget travelers
Comfort seats and clean facilities
Guide interpretation onboard but only in Chinese
Departs: Daily
Capacity: 80 Passengers
Meals: Buffet Lunch
Duration: 09:30am - 01:30pm
Departs: Zhujiang Pier, Guilin
Price Per Person of Lower Deck:
Adult $80
Child 120-149cms tall (3.9-4.9ft) $55
Child under 120cms (3.9ft) Free
Features:
Departs everyday
Chinese/Western-Style buffet lunch, including beverages
Comfort seat and no loudspeaker
English-Speaking guides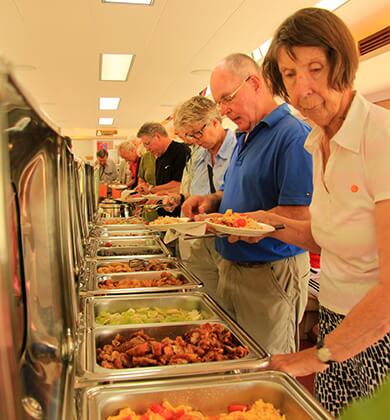 Departs: No Fixed Time
Capacity: 60-70 Passengers
Meals: Buffet Lunch
Duration: 09:30am - 01:30pm
Departs: Zhujiang Pier, Guilin
Price per person may vary according to the travel seasons, the time schedule and price are normally notify us monthly by cruise company.
Contact us for more details.
Features:
The most luxury boat so far
Roomy cabin with capacity of 70 passengers
Chinese and Western buffet lunch include beverages, and a-la cart menu as well
Departure time and price are not fixed, book in 30 days before departure
Price Inclusions
Li River Cruise ticket
A lunch on board
Service fees of booking
Child under 120cms(3.9ft) is free but without seat and meal
Cancellation Policy
Cancellation received 7 days before departure: 100 % refund of all monies paid
Cancellation received from 3 to 6 days before departure: 50% of ticket price
Cancellation received less than 48 hours before departure: 100% of the ticket price
No-show travelers will be charged 100% of the ticket price
Steps for Making a Reservation

How to Collect Your Ticket?
Self-Collected at Cruise Passenger Wharf
3-Star Boat: Collect ticket in Mopanshan Passenger Wharf, follow the instruction in Self-Service Ticketing Machines, enter your order number and verification code for collection.

4-Star Boat: Collect ticket in Zhujiang Passenger Wharf, ask staff for help in ticket office and show your reservation voucher.

Note:
1. It takes 50 minutes' drive to the wharf from Guilin downtown, please make sure get to the wharf at least 40 minutes before departure to leave enough time for ticket collection and security check.
2. The booking is confirmed within 24 hours. Ticket release in 2 days before departure, we will email you the time and detailed ticket information as soon as possible.
Itinerary from Guilin to Yangshuo
Hotel pickup and transfer to Guilin Pier (for customers who book cruise dock transfer with us)
Collect your cruise ticket at the Ticket Center with passports .
Security Check with tickets and passports
Li River Cruise departs from Guilin Pier ​
Enjoy scenery of Yangdi, Crown Cave, and Nine Horse Fresco Hill ​
Xingping Town, scenery on 20yuan banknote
Arrive at Yangshuo Pier and disembark cruise
*NOTE: The exact time of departure and arrival is not fixed, but it's normally during this timeframe.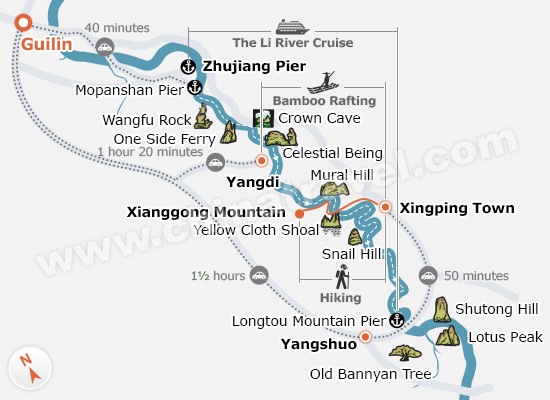 What to Expect Along the Cruise?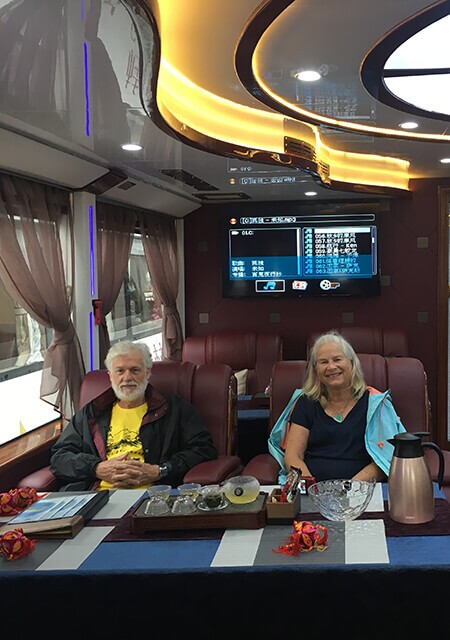 Leisurely Cruise Experience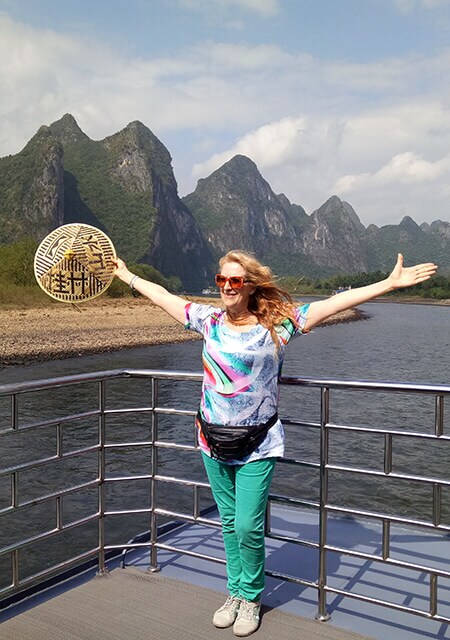 Picturesque Karst Landforms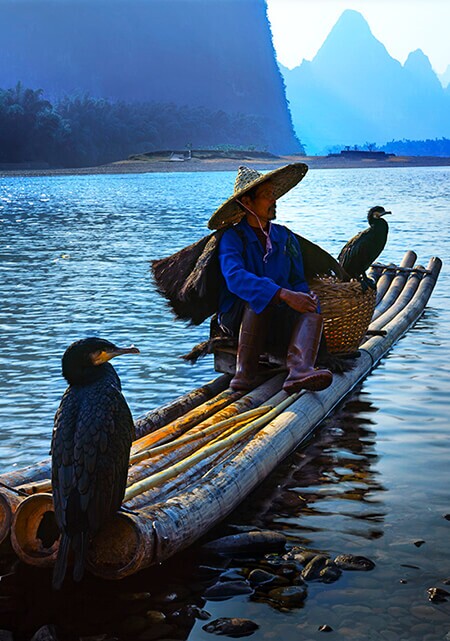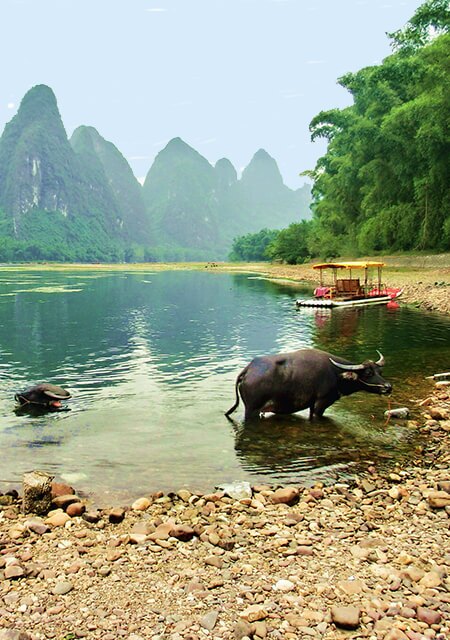 How to Get to the Pier?
There is no public transportation from downtown Guilin to the cruise pier. Below are three options with pros and cons for travelers:
Take a taxi: It takes CNY 200+ from Guilin Airport and about CNY 100+ from most downtown hotels – not cost-effective.
Join in a seat-in-coach tour by travel agency or your hotel: It takes extra time to pick up other passengers and you need to pick up cruise tickets on your own – not time-efficient.
Book Li River Cruise with Private Transfer like us: including hotel/airport pickup, ticket collection and drop off in Guilin after the cruise – fast, convenient and carefree.
Why Book with Us?
Guilin Local Experts
As a company based in Guilin, we know how to deal perfectly with any problem you might have before/on/after your boat trip.
One-Stop Service
We can handle all your concerns. Not just reservations and transfers, your guide/driver will even pick up the cruise tickets for you.
Trustworthy
100% direct booking guaranteed, with no forced shopping, dodgy detours, sneaky extras, or any other nasty surprises.
Customer Frequently Asked Questions
1. Should I stay in Guilin or Yangshuo?
You'll need to stay for one night in Guilin because the Li River Cruise leaves in the early morning only. If your time and budget allow, Yangshuo deserves a visit, too. biking through the Yangshuo countryside and visiting a local family will enrich your Guilin tour.
2. Where to stay near to the Guilin River Cruise?
3. Does the cruise ticket include hotel pick-up?
4. Are there any age limits to take the cruise?
5. Is it worth paying extra for the upper deck?
6. Can I bring my luggage on board?
7. How to get back to Guilin after disembarking the cruise in Yangshuo?
CONTACT US
Send us a message and get response within one working day! Your personal information will be totally confidential.